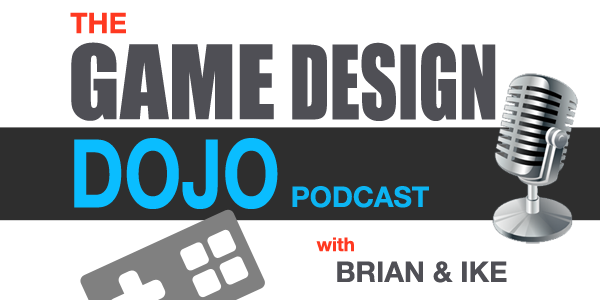 Happy 2014! It's a new year and times are changing fast in our video game industry. It's important to evaluate your skills and abilities in order to make smart, achievable goals to make your company a success. Packed with insights and examples this episode will help you get going in the the right direction.
Hey everyone! We're all rested up from a great holiday break and are getting back in the saddle for a great 2014. The word of the day: Ship it! Well, that's two words I suppose. For both of us, 2013 was a transitional year as Ike started his new company and I incubated multiple original projects. This year, you can expect both of us to launch our own stuff and we hope that you each launch at least one game 2014.
5 Ways to Maximize Your Chances For Success
People think of video game industry as gold rush. However, in reality it's very rare to make millions, much like the lottery. The truth is that thousands of developers making games don't earn a single dollar! Here's some sure fire ways maximize your chances for success:
Set goals to have more product launches or, in baseball terms, "at bats". The more at bats you have, the more chances you have to get a hit.

Look at having a long career in games, not just a flash in the pan.

Over time the more you shoot, the more accurate you'll get and the better you're going to get at knowing your audience and your craft.

Repetition in this cycle will create mastery.
Planning Your Goals Using the Indie Game Developer's Survival Pyramid
One way to look at how to plan your goals is to find out where you are on the Game Developer's Survival Pyramid. This hierarchy, modeled after Pavlov's Hierarchy of Needs, illustrates how a developer can go from a single professional into a very successful business.  Let's take a closer look.
Hierarchy of Needs Pyramid
Basic psychology from Pavlov:
Bottom of pyramid – basic needs like food and shelter

Next layer have some luxuries and so on

Top layer – enlightenment
In video game development:
Level 1, Ground Floor – looking to earn money from video game development.

Level 2, Lift Off – you're working in the industry as an independent contractor or as an indie game studio doing work for hire.

Level 3, Cruising Altitude – you have a steady steam of clients and have grown your staff.  You're now launching your own original games.

Level 4, Stratosphere – You no longer or very rarely do any work for hire and spend most of your time updating and launching games to your fans.
Level 1 – Ground Floor
The first thing you'll need to do is to take a look at what skills you have. Then, you'll need to find a way to either get work for your skills, learn new skills, or find other like minded partners that have complimentary skills to join you – either by hiring them or by partnering. Also, it's important to get out and do some networking, since this stage is all about people. Here's a short list of places that can help you find work and partners:
Local Meet Ups – highly recommended

GDC – Game Developers Conference

Casual Connect

College – perfect situation for networking
Once you have a small group, what's the next step? Get a website together and show the world what you can do. We suggest WordPress as a great template to build really nice looking websites very inexpensively. Look to the site to be a portfolio site that can clearly illustrate what skills you have and what types of projects you can do. Polish and quality are key here people!  At this point, look at these opportunities:
Publishers willing to pay for a project

At the point to launch a Kickstarter campaign

Get some money because raised enough awareness through social media

Another company sees what you're doing and ask to do for them
Level 2 – Lift Off
At this point, you are working and making money creating art, writing code, or making entire games. Hopefully, you're even doing it full time! You're getting some fans on Facebook and you're posting on Twitter to raise awareness for yourself. Congratulations, you're well on your way.
Besides continually building your skills, you'll need to look to the next step: launching your own game. To do this you'll need a long run way, or war chest, to weather the storm. Don't assume you can finish a blockbuster game in two weeks, it'll never happen. Plan for how long you think it will take and then double it, adjusting your scope as you go. Figure out how much money you'll need to survive that long and then save for that amount. This will ensure you have a lasting career in games.
Level 3 – Cruising Altitude
Now that you have a steady stream of clients and a couple of games under your belt you are truly an indie game developer. Congratulations, you're the real deal.
To keep the party going, you'll need to treat your clients like gold to keep them coming back. Also, look to grow your team but be careful about spending too much money, you'll need that nice long runway you've built for yourself!
Most importantly create games! We'll talk about how to pick a project on another episode, but for now just focus on getting in there and getting it done! Don't forget to share your progress with social media and the press along the way.
Level 4 – Stratosphere
This is Indie Game Dev bliss. You're working on your own games basking in the glow of all your wonderful raving fans. We're not sure what to do here, because we're not at this point, but it sure would be pretty awesome to be here one day.
Good luck, have a great 2014, and we'll be pulling for you every step along the way!
Listen now to Game Design Dojo Episode #008
Helpful Links
http://en.wikipedia.org/wiki/Ivan_Pavlov
http://en.wikipedia.org/wiki/Maslow's_hierarchy_of_needs
http://www.thegnomonworkshop.com/